We are 5 Star Rated by our customers!
Lawn Care
Stanley's Simply Green has the skill and experience to take care of all of your lawn care needs throughout all of the seasons that have impact on the health and beauty of your lawn. For general property and lawn maintenance, weed control, sod and lawn installation, and tree maintenance, In the Piedmont Triad area, Stanley's Simply Green is your expert for all of your residential and commercial maintenance needs. Contact us today!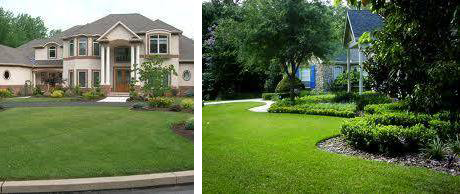 Weekly and Annual Lawn Maintenance
During the summer, it can be difficult to maintain a luscious green lawn. Between mowing, weed eating, raking, pulling weeds, and watering, it can become quite overwhelming and time-consuming. Stanley's Simply Green is here to do the hard work so you can enjoy the beautiful weather and spend quality time outdoors. We provide weekly and annual services that are customized to complete the jobs you need within your budget.
Stanley's Simply Green is your premier provider for a comprehensive lawn care program. We design a custom schedule for your property to create a healthy and green landscape for you and your family to enjoy. Year after year you will enjoy the beauty and comfort of the outdoors in your fully maintained back yard. Be the entertainment headquarters and enjoy the summer without leaving your home!
Commercial Lawn Maintenance
You can rely on Stanley's Simply Green to maintain the property of your large or small business. We have the equipment and the experience to keep your landscaping looking sharp and clean all year long with our complete service. Whether you are in need of grading, lawn care, or an annual maintenance plan, you can count on Stanley's Simply Green to maintain your property so you can focus on your customers.
Debris Hauling
Seasonal debris cleaning promotes a healthier lawn, and also helps with maintaining a much more attractive property. Throughout the seasons, debris falls from trees due to rain, wind and other weather conditions. Our crew will clean and remove all the leaves, branches and debris from your property in the fall and spring using power raking and aeration techniques. This will prepare your lawn for healthy growth during the next growing season. We also offer general debris hauling services.
Fertilization, Weed Control & Aeration
A comprehensive maintenance program for your lawn using the perfect combination of fertilizer, weed control applications and insect control provide the necessary nutrients to ensure a much healthier lawn. Weeds are a constant threat to your lawn, and if weeds aren't kept at bay, they can quickly take over a lawn. At Stanley's Simply Green, we apply pre-emergent weed treatments to prevent grassy-type weeds such as crabgrass, goose grass, fox tail, chickweed, and poa annua from germinating. We also use post-emergent treatments to control actively growing broadleaf weeds such as clover, chickweed, dandelions, and henbit. If any of the controllable weeds do creep back, Stanley's Simply Green will make a return visit to treat them at no additional charge.
Our crew will follow this specific program on your property for complete year-round coverage. We apply different combinations of these products throughout the year to achieve the best results for the overall health of your yard. In combination with weed control and fertilization, annual aeration promotes deeper root growth and the ability for water to penetrate deep into the soil. This allows for stronger and deeper roots requiring less watering, resulting in a green lawn all year long.
Sod & Lawn Installation
At Stanley's Simply Green, we pride ourselves in knowing how to treat, take care of, and maintain the beauty and health of your lawn. We provide top quality when it comes to turf, sod, and seeding, grading, and fertilizing. We work to keep your lawn healthy with our weed and other preventive treatments. Sometimes, however, a lawn is beyond the point of repair. We can professionally install turf grass, which will make your lawn look and feel beautiful again. We'll give your lawn the optimal conditions it needs to grow, establish, and thrive.
Tree Maintenance
Dangling branches and unkempt trees on a property can be both hazard and unsightly. At Stanley's Simply Green, we work on both residential and commercial properties to ensure that your trees are trimmed and manageable. We provide storm damage clean-up as well as general tree maintenance, tree removal, pruning, and stump removal. We also make sure your trees are centered and balanced to ensure proper growth. The environment in our region cultivates tree growth, but with that comes the accompanying maintenance. Let us help you with your arbor care, and contact Stanley's Simply Green today.